Namibia Wildlife Sanctuary Volunteers
2-6 weeks from AUD$2,006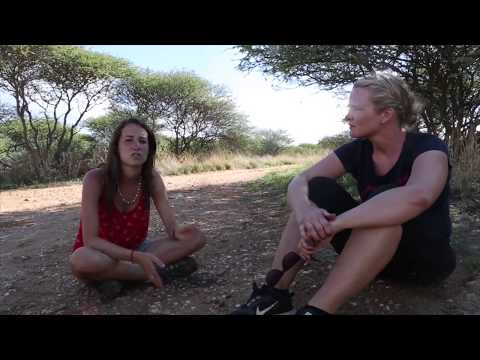 Trip Highlights
Take the resident Baboons for walks
Work with others to care for Namibia's precious wildlife
Experience a carnivore feed with Lions, Cheetahs, Leopards and Wild Dogs on the reserve
Play your part in helping rehabilitate animals in need
Trip Summary
This is your chance to make a difference to the lives of some of Namibia's fascinating Wildlife including Baboons, Cheetahs, Meerkats, Lions, Caracals and Leopards. The Namibian Wildlife Sanctuary is set in a wonderful private reserve offering views of the distant mountain ranges, grass planes and rugged natural Savannah.
This is an extremely popular project which often sells out many months in advance - book early to avoid disappointment!
Interested and want to find out more? Download more trip information and detailed itinerary HERE!
This programme gives you the fantastic opportunity to help out on a working farm in Namibia; from preparing food for the resident animals including Meerkats and Lions, to taking the mischievous Baboons out on their daily walk to helping out with the general maintenance and upkeep of this fascinating farm; there will be plenty for you to do!
You will normally be working in groups of approximately 6 people, starting bright and early at 8:00am and usually finishing at 5:30pm (although there may be animals that need additional care in the evenings), you'll also have a break mid-morning and a lunch break for you to recharge your batteries. In the evenings you'll have free time to do as you please, chill out with cold beer in hand or take a dip in the pool! Depending on the weather there may even be the opportunity to sleep out under the stars and marvel at the beautiful starry skies that Africa is so famous for!
On Saturday afternoons, you'll have some free time to relax or take advantage of one of the activities on offer such as game count, bush trekking or paintballing that may be available to you (some of these activities will be at an additional cost); in the evening there may be a traditional Braai where you can catch up with your fellow volunteers and new found friends!
On Sundays there may be an opportunity for you visit Namibia's capital city Windhoek to buy some souvenirs or go for a nice meal somewhere! Alternatively, if you don't feel like venturing into town, you can always head over to the luxurious guest lodge on the farm for a very relaxing and tasty lunch!
You will also have the option (at extra cost and subject to availability) of spending a week or two at one of two carnivore research sites that the sanctuary works with. One is set in a beautiful wine and wildlife estate that can include activities such as monitoring leopard, cheetah and hyena; data collection and processing, checking camera traps, game counts, mapping and exploring the terrain and environment. The other location is a desert retreat situated next to Namib Naukluft Park. Here you may be involved with mapping the terrain, assisting with capture and releases, tracking, game counts, camera traps, maintenance and security on the reserve as well as night drives and sleep-outs. Please note trips to either of these research sites is at extra cost and is not included in the standard package, however can be added to your stay on arrival (subject to availability).
The Namibian Wildlife Sanctuary is set in a natural savannah with lush grass plains and stunning mountain views for you to enjoy. It is set on a 3,200 hectare reserve which is home a wide variety of animals including Zebra, Giraffe, Kudu, Springbok, Warthogs and Hartebeests!

As a volunteer on this fascinating programme you will be playing a part in helping the sanctuary achieve its aim of providing a safe refuge for injured, orphaned or abandoned wildlife including Baboons, Wild Dogs, Cheetahs, Leopards, Meerkats, Caracals and Leopards as well as a number of domestic farm animals such as goats, sheep, pigs, chickens and horses to name but a few! It is important to keep an open mind though as the animals at the sanctuary can change and the team will always endeavor to help those animals in need, no matter the shape or size.

You'll be working hands-on to help develop and maintain the sanctuary and its surrounding area so that the rehabilitation work can continue to grow. A lot of your daily activity will revolve around food (theirs, not yours) and all the routine of looking out for their well being – so feeding, grooming, cleaning out enclosures. There are also wider responsibilities – maintaining and building new enclosures, checking and maintaining the sanctuary fences, cleaning and digging new water-holes.

When guests come to the sanctuary, you'll be on the inside, part of the gang – and you might well be assisting the guides.
It's not all work at the sanctuary, you will also have a bit of free time to use as you please. Our in-country team help arrange a number of activities at the sanctuary which you are more than welcome to join in with. This could include anything from a sleep out, traditional Braai (african BBQ), chill out at the pool, or possibly even pop into Windhoek city to do a bit of shopping, check your emails or visit a local restaurant.
There is a lovely laid back atmosphere at the sanctuary and you are bound to feel right at home. It's a great escape from the busy world you will be used to back home and gives you the chance to chill out and enjoy these wonderful surroundings.
How have previous volunteers helped the project? We asked our in-country team…
"Volunteering at the Namibia Wildlife Sanctuary makes a huge impact on both the local wildlife and the local communities.
From feeding the animals and ensuring their enclosures are sparkling clean to providing hands on care, love and enrichment for the babies and orphaned wildlife that arrive at the sanctuary, volunteers are helping to improve the life and wellbeing of all our furry, winged and scaled inhabitants. While we strive to release any animal we are able to provide with a safe life in the wild, some of our animals must remain in captivity for various reasons. Volunteers positively impact the lives of these animals on a daily basis, not only providing them with the care to ensure their survival, but going above and beyond to ensure their lives are full of comfort and joy.
Volunteer achievements have included the building, repairing and beautifying of our animal's homes and enclosures; providing the animals' with carefully prepared food, with exercise on walks and through enrichment, with company, love and care.
But that is not all. Volunteers who come to the Namibia Wildlife Sanctuary may also have the opportunity to assist with the education of the children of the marginalized San Bushman community in the local school, or to assist with medical care at our Lifeline Clinic. These roles ensure that the younger generation of San Bushman can rise above the obstacles they face through their education and that healthcare is made accessible to the San in the region of our clinic.
The love, dedication and care poured into our animals and community members by volunteers ensures that Namibia's indigenous species and people will thrive for generations to come. The Namibia Wildlife Sanctuary is all about conservation - conserving both the people and wildlife of Namibia with the help of dedicated staff and volunteers like you."
Airport Transfers
Arrival Orientation
All accommodation
Three meals a day
Work Placement
Full support from your co-ordinator
All flights
Travel insurance
Work visa
There are two different types of accommodation for this programme, rooms in the volunteer house and large tents. Accommodation will be allocated by the in-country team.
The volunteer rooms are basic but comfortable. Each room contains two single beds, bed linen including duvets and pillows will be provided; there will be up to two volunteers sharing each room. Occassionally when the project is busy you may be placed in a triple share room.

In addition to the volunteer house accommodation, there are also a number of large twin-share tents on wooden platforms available. Inside the tents you'll find two single beds (bed linen including duvets and pillows will be provided) as well as a seperate living area.
Communal toilet and shower facilities are located at each of the volunteer houses for all volunteers to use. Towels are included.
During your stay at the sanctuary, you will receive three basic but tasty meals a day. Breakfast is on a help-yourself basis, normally consisting of toast and cereals etc. Lunch is typically sandwiches, salads or hot snacks, whilst dinner includes a hot meal or barbecue.
There is a communal dining area and a small bar where you can buy a few snacks. We can make allowances for most dietary requirements including vegetarians, vegans and common food allergies. In these cases, please speak to us and the camp manager or cook if you have specific requirements. However, you must take responsibility for your own allergies and carefully monitor the food that you consume. It is important that you let us and your project manager know of any dietary requirements that you may have.
Please let us know if you have any dietary requirements.
More Accommodation & Meals
To get a flight quote simply use the form below, or contact our fantastic flights team on +44 1892 277037.
Get Flights Quote
Your flight to Namibia should arrive at Windhoek International airport on your programme start date. Your return flight or onward travel should be arranged on your programme end date.
To book your flights, please contact our flight specialist on 01892 277037 who can find some great flight prices for you!
It is important that once you have booked your flights you add these details to your online account or alternatively you can contact us with your departure date, the flight number and arrival time at your destination.
The minimum age on this project is 18 years; the maximum depends on the health of the potential participant.
Please note that you will be required to obtain a work visa for Namibia to participate in this programme. Please ensure that you are able to obtain this visa. Uploaded into your online account will be a visa invitation letter which you need to present to the Namibian Embassy in order to obtain this visa.
What Should I Wear For Volunteering?
Namibian culture is very conservative so please keep this in mind when you are packing for your trip. Whilst volunteering, shorts should be knee length and tops should cover your midriff and chest.
How Hands-on Will I Be Able To Get With The Animals?
Very much so where possible, the volunteer duties will allow you hands-on opportunites.
How Remote Is The Project?
There is a sense of remoteness even though Windhoek is around a 35 min drive but also a very peaceful location!
What Animals Are At The Sanctuary?
A variety at any one time of Lions, Leopards, Cheetahs, Wild Dogs, lots of Baboons and farm animals.
Will I Be Able To Check My Emails?
There will be opportunities for groups of volunteers to go into Windhoek on some Sundays but this can't be guaranteed.
Do I Need To Take A Sleeping Bag?
Yes, we recommend that you take one with you especially in winter as it can be get really chilly!
Do I Need To Take A Mosquito Net?
No, this isn't necessary.
Is There A Safe/safety Deposit Box?
Yes, there will be safes available and a deposit of N$500 is required which will be returned once the key is given back.
Online booking is unavailable for this trip
If you'd like to discuss availability or would like us to help you find a similar trip please contact us...